Benicio Del Toro Dons Makeup and Faux Fur for "The Wolfman"
Posted on February 12, 2010, 11:57 AM
Fans of the original campy horror film "The Wolfman" are sure to enjoy the new remake, which follows a similar storyline but boasts far better makeup and special effects.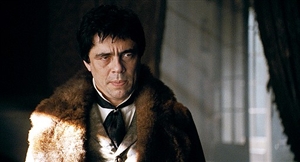 Benicio Del Toro stars in "The Wolfman."
The suspenseful thriller follows Lawrence Talbot (Benicio Del Toro) as he copes with the after-effects of an attack that turned him into a werewolf. The lovely Emily Blunt and Anthony Hopkins also appear in the film.
To transform the handsome actor into a hairy beast, makeup designer Rick Baker spent hours applying layers of product to Del Toro's face.
Baker first used thin latex pieces that covered portions of the actor's face, to achieve the desired (and frightening effect), and then added a wig, dentures and loose hair, the artist told "Entertainment Weekly".
He also explained to the news provider that while the makeup was incredibly time-consuming to apply, it would take up to an hour just to remove!
The film hits theaters today, so curious moviegoers can catch Del Toro's eerie on-screen transformation for themselves.
Baker is a renowned makeup designer, and he has won six Oscars for his work behind the scenes on films such as "How the Grinch Stole Christmas" and "Ed Wood."