Matt Damon is Having a Girl, Wife's Natural Beauty Shines
Posted on October 13, 2010, 3:08 PM
One of our favorite Hollywood hunks is going to have another baby girl and his wife Luciana Barrosa's natural beauty glows with pregnancy.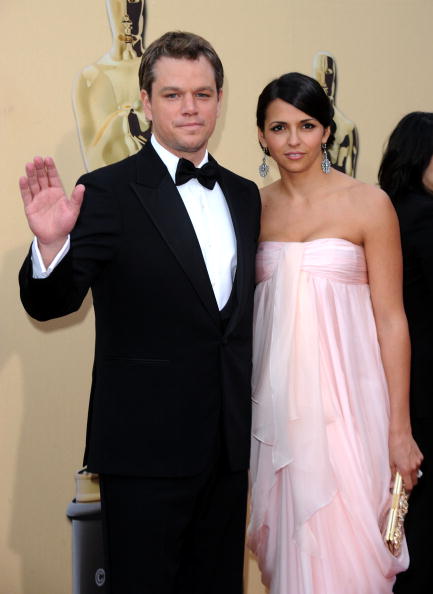 Matt Damon is Having a Girl, Wife's Natural Beauty Shines
It may not be a surprise for Hollywood hunks to be surrounded by gorgeous women all the time, but no male celeb can beat this A-list's record: Matt Damon who is married to Argentina native Luciana Barrosa, just announced they're having another baby girl.
The Damons already have three daughters: Alexia, 11, who is from Luciana's previous marriage, Isabella, soon to be 4-years-old in June, and baby Gia just shy of two years.
The Oscar-winning actor has been reported to turn down another "Bourne" chapter, and the newborn may be the reason why.
"I'm thrilled," he told "Us Sunday" at the New York Film Festival's "Hereafter" premiere. "I can't wait to meet her."
Luciana, 34, is expectant in one month and looks simply stunning. What is it about that pregnant glow that makes women's skin shine? Luciana's
natural beauty
is undeniable as she struts down the red carpet in gorgeous, flowing gowns. If you're also an expecting mother, check out our
new mom, quick beauty tips here
.
Damon and his wife had a quiet wedding in 2005 and since then his family life has kept him grounded among the Hollywood noise.
"I really used to have no life outside movies. I'd work all day, go to the gym and go to sleep," he said. But once Isabella arrived, "that was it for me and working out because I wanted to get home to see my daughter before she went to sleep."
He once told "Parade" magazine, "It's pretty easy to kind of lose your way... having kids is really helpful. They kind of disabuse you of the notion of your greatness pretty quickly. There's a routine that you get into with kids that precludes you from going back to your single days. I'm probably more boring than I used to be. I go to bed earlier and I get up earlier."
Damon's close friend, George Clooney told "People" a couple years ago that the "Bourne" star is a "phenomenal" father. "He absolutely adores those kids. He's doing it really well."
It seems the new baby is going into a wonderful family. Congratulations to the happy couple.
Damon's next big screen appearance will be opposite Jeff Bridges in Joel and Ethan Coen's remake of "True Grit." The classic Western will debut on Christmas Day.
By Sharon J. Yi