Actress Alicia Silverstone Gives Birth to Baby Bear Blu
Posted on May 9, 2011, 3:18 PM
No, she isn't starring in a weird new sci-fi thriller...Her son is named after a blue bear. Scout's honor.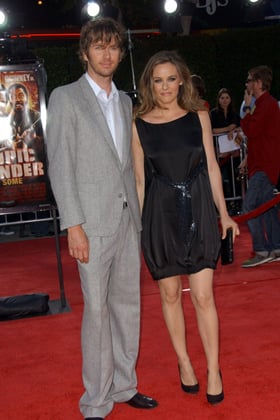 Actress Alicia Silverstone Gives Birth to Baby Bear Blu
"Clueless" star Alicia Silverstone gave birth to a healthy 7-pound, 15-ounce boy last Thursday (May 5) at a Los Angeles birthing center. But it seems like she was clueless about where she last put that baby name book and resorted to naming her first son after what we can only assume to be her favorite animal and color: Bear Blu (spelled without the "e" of course) –- she
is
after all, a big animal rights activist so it (kind of) makes sense.
Oh
boy
can we anticipate the merciless childhood taunts to come. Then again, given Hollywood's propensity for bizarre-o kids names, (Isn't that right Sparrow Madden and Tabooger Cortese?) maybe he'll fit right in.
The actress first announced her
baby and pregnancy
in
January
. Today, she confirmed to "People" in a released statement that she'd given birth; "Mom and Dad are completely in love [with their] beautiful baby boy."
Bear Blu's dad is Silverstone's rocker hubby Christopher Jarecki, 40, front man for punk group S.T.U.N., whom she's been with since 1997. They tied the knot in a serene beachfront ceremony in Lake Tahoe six years ago.
The 34-year-old actress has been waiting for this moment all her life, as she said, "I've been wanting to have a baby since I was two years old -- I'm destined to be a mother."
Not to worry, her parenting skills are sure to be better than her name-picking ones and little Bear is sure to be a healthy cub. The actress, who's up next in the indie flick "Butter" opposite Hugh Jackman and Jennifer Garner, leads a very healthy lifestyle and recently published the New York Times bestselling vegan cookbook "The Kind Diet."
-- Sharon J. Yi