Taylor Momsen Named the Face of John Galliano Parlez-Moi d'Amour Fragrance
Posted on September 27, 2010, 11:16 AM
The "Gossip Girl" star will soon be seen in ads for the new perfume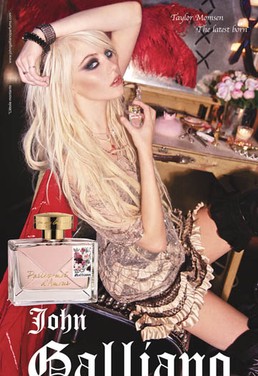 Taylor Momsen Named the Face of John Galliano Parlez-Moi d'Amour Fragrance
"Gossip Girl" star Taylor Momsen, who's featured in Madonna and Lourdes' "Material Girl" campaign, has been tapped to be the face of John Galliano's new women's
fragrance
, Parlez-Moi d'Amour.
Galliano himself selected "Little J" from the TV hit "Gossip Girl" to be the face of his new perfume. In the story line he dreamed up to inspire the fragrance's development, Momsen is a rocker (like she is in real life) who'd been gigging around the world and finds herself in Berlin, out of contact with everyone she knows, according to Women's Wear Daily. The scent is targeted at women that range from ages 16 to 30 and will hit U.S. shelves in early spring.
"For a love letter, you need an envelope. So we designed a 'bottle envelope,'" said a rep from the perfume company, referring to Parlez-Moi d'Amour's rectangular flacon made to resemble a sealed envelope. It has a stamp that's printed with flowers appearing on a fabric the designer used in his apparel. Parlez-Moi d'Amour, the fragrance name, comes from a song written by Jean Lenoir in 1930. (In English, it means Talk to Me About Love.)
Parlez-Moi d'Amour is a floral, fruity chypre, including notes of ginger, blueberry, Turkish rose and jasmine Sambac. Massenet replaced the traditional oak moss note from a chypre structure with cypress absolute.
The scent is said to have a strong online push and Galliano will release a video that stars Momsen and another featuring the fragrance bottle that's set to appear globally.
Parlez-Moi d'Amour will hit France, the U.K., Switzerland, Belgium and the Middle East in mid-October. Its launch in other countries, including the U.S., is slated for early spring.
What do you think of Taylor Momsen as the face of John Galliano's Parlez-Moi d'Amour?