"Mad Men" Barbies, "Mad Men" clothes, and Now "Mad Men" Nails? What's Next?!
Posted on July 30, 2010, 12:03 PM
Lionsgate, TV studio for "Mad Men," said they'll be staying away from becoming too kitschy -- but the extra moolah seems to be too hard to resist.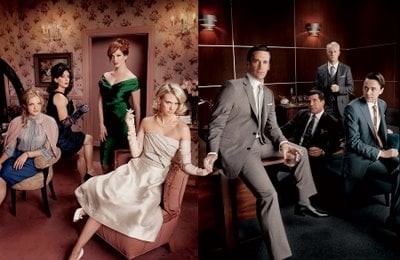 "Mad Men" Barbies, "Mad Men" clothes, and Now "Mad Men" Nails? What's Next?!
With trends like leggings, Buddy Holly glasses and wearing blush up to the hairline like in the 80s all back in style, it's safe to say that retro is back -- and now even for our
nails
.
"Mad Men" couldn't have come at a better time. The AMC TV show features life in the advertising world during the 1960s. After collaborating with mega corporation Mattel to come out with a
Special Collection of Barbie dolls for adults designed after the "Mad Men" characters
, the president for television programming and production at Lionsgate Kevin Beggs said they won't over-do the kitschy merchandise in fear of devaluing the aesthetics of the show.
Lionsgate "is fairly restrained," said Beggs while promising, "no sharks will be jumped" (by the way, that's TV lingo referring to a common mishap with shows that self-destruct by jumping the gun).
However, it seems the extended franchise is too hard to resist, as Janie Bryant, "Mad Men" costume designer, just partnered with nail polish brand
Nailtini
to come out with a limited edition nail lacquer line inspired by cocktail dresses during the 60s. Velvets, satins and lames – all fabrics used for the 60s aesthetic were the launch pad for the four colors featured in the line: brown, gold, platinum and iridescent shades called Bourbon Satin, French 75, Deauville and Stinger, respectively.
Bryant is on a roll after having just finished a "Mad Men" clothing collection for QVC called the "Mod" featuring leopard fur shawls and the 60s cropped arms coats. The collection launches September 29th.
Founder of Nailtini, Michelle Toma Olson, hopes to work with Bryant again for a spring collection. The $14 polishes will hit shelves in time for the fall season, featured exclusively at CVS' Beauty 360 and Duane Reade's Look stores.
I'm a fanatic with nail polish just as much as the next girl and you'd be sure I'll be snagging these hot colors. But if you can't wait for fall, check out this list of our
best nail polishes
. And for you ladies on the go, find out how to do a three-minute
manicure
with this
video tutorial
.
By Sharon Yi