Jessica Biel's Body Secrets Revealed
Posted on July 13, 2010, 4:44 PM
Justin Timberlake's girlfriend spills the beans on how she maintains her rocking physique.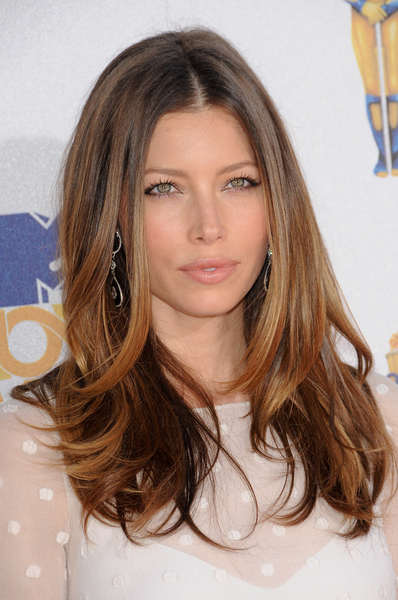 You don't get to look this good without lots of hard work.
In the August issue of Glamour UK, actress Jessica Biel reveals how she keeps her
body
in such fantastic shape.
"When I'm working and I eat healthily all week, I then give myself one day--usually Sunday--when I just eat what I want." the 28 year-old says in the cover story. "You have to, otherwise your mind goes a little nutso."
Um, yeah. But what does "eating healthily" entail when you're Jessica Biel? According to the story, JT's gal pal eschews bread, dairy, sugar, salt and most meat when she's working. So, by process of elimination, she must subsist solely on grains, veggies and...soy protein?
Somehow, despite her regimented food intake, the actress, whose next movie, "Nailed," opposite Jake Gyllenhaal and Kirstie Alley opens later this year, somehow manages to have enough energy to work out - a lot.
As she explains in the magazine, she works out with a personal trainer 2-3 days a week and exercises even on the off days by hiking or hitting the gym or the - get this - ballet bar.
Last year, Biel's trainer, Josh Walsh, told People magazine precisely what a workout of hers is like. Here's the low down on what they do: Walking lunges to get warmed up/stretched out, a 1/2-mile jog followed by two 200-meter, 150 meter and 100-meter sprints, then on to hanging legs raises that she "hates but powers through," onto "plyometrics" which involves jumping from the bottom step of a flight of at least 20 stairs to the third. Keep going, skipping a stair each jump and then they get to the weight training portion of the workout.
If you're tired from just reading that description, you're not alone. Not that it should come as any great surprise since Biel has been an athlete her whole life, playing soccer as a kid and idolizing Mia Hamm. "That was the person I wanted to be, not a supermodel," she told the Seattle Post-Intelligencer. "I wanted ripped abs, muscular thighs, beautiful arms." Well, you got them, Jess.
Something else she wanted when she was young was Mark-Paul Gosselaar, (a.k.a. Zack from "Saved by the Bell.") "Yes, I was in love with him...it just must have been that Zack Morris flattop," she told InStyle magazine. Well, if things ever go permanently south with Justin Timberlake, she just may have a shot at Zack, er, Mark-Paul – the actor, 36, filed for divorce from his wife of 14 years on June 27.