How to Improve Your Nails During the Winter Season
Posted on November 30, 2009, 1:44 PM
Cold weather may have your nails feeling extra brittle and likely to crack, but beauty magazine Allure is offering some helpful suggestions on how to keep your nails healthy.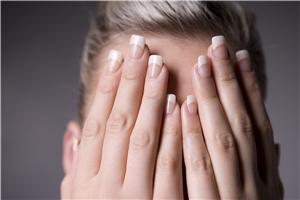 Trying to avoid brittle nails during the winter can be a headache
According to an interview with dermatologist Fran Cook-Bolden, nails tend to break easier during the colder months because they thrive on at least 55 percent humidity. Once the humidity is gone, nails are often vulnerable and damaged. Cook-Bolden said it's a good idea to wear gloves during the winter months as it helps one's nails retain moisture.
When it comes to caring for cuticles, after you wash your hands, apply either corn or soy oil around your nails and rub it in. Dry your hands off afterwards and apply a moisturizer with amino acids like glycine that will help restore elasticity to the nail plate.
Natural supplements like Biotin may also help in strengthening your nails, though it won't help speed up their growth.
Once your nails are restored back to their healthy selves, apply your favorite polish to show them off.