Heidi Montag Reveals Addiction to Plastic Surgery
Posted on January 13, 2010, 2:41 PM
Although some women may feel that plastic surgery is the answer to their insecurities, others seem to take the notion too far, and end up hiding their natural beauty. However, it does seem that cosmetic procedures have become the norm in Hollywood.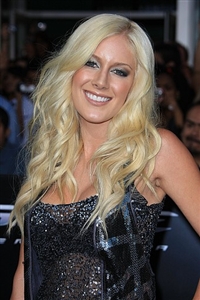 Montag's first time going under the knife resulted in a new nose and bigger breasts
One star in particular, Heidi Montag, pictured here after her first bout of surgery with a new nose and larger breasts, recently admitted that she has an addiction to cosmetic surgeries. She revealed to "People Magazine" that she had 10 procedures performed in one day.
This may explain why the attention-seeking star hasn't been spotted out and about recently. Montag admitted to the magazine that she had become "obsessed" with thinking about what she could change about her appearance.
"For the past three years, I've thought about what to have done," Montag said. "I'm beyond obsessed."
According to "USA Today", some of the procedures Montag elected to have included a mini brow lift, neck liposuction, fat injections in her cheeks, botox, a nose job revision and a chin reduction.
While Montag may believe she's having these surgeries to become "perfect," she should be careful that she doesn't go overboard and wind up looking like Joan Rivers!