Heid Montag To Bare More Skin During Second "Playboy" Shoot
Posted on February 15, 2010, 9:05 AM
Heidi Montag hasn't been shy about showing off her new face and body. The reality star made her post-surgery red carpet debut on Valentine's Day, wearing a form-fitting pink dress to host a bash at the Las Vegas nightclub Pure with her husband, Spenc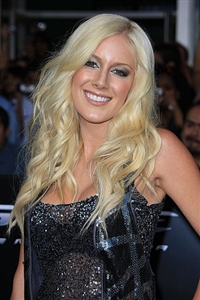 Heidi Montag will show some skin in "Playboy," again.
The revealing outfit showed off her curvy new figure, though it seems like Montag, pictured here before her transformation, is anxious to bare even more skin.
"I am doing "Playboy" again ... soon, very soon," Heidi told "RadarOnline.com." "I cannot wait to show off my new assets, I am very excited."
The former star of "The Hills" posed for the iconic magazine in June of 2009 before her second round of plastic surgery, though at the time she opted to keep some of her clothes on. This time, however, she claims that she's ready to bare all.
She even told the news source that after her second "Playboy" shoot she plans on revising her breast augmentation again and opting for even larger implants.
Last month Montag underwent ten procedures including a nose job, a mini brow lift, Botox, fat injections in her lips and cheeks, a chin reduction, liposuction on her neck, waist and thighs and a breast augmentation revision.