Fergie Announces the Launch of Her First Fragrance, Outspoken
Posted on June 10, 2010, 7:40 PM
Black Eyed Peas lead songstress, Fergie, announces the launch of her first women's perfume, Outspoken.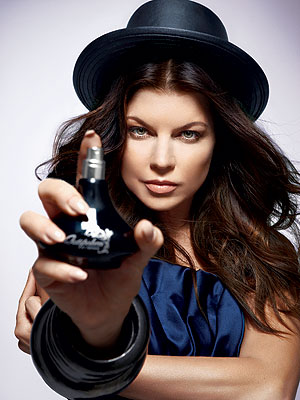 Fergie Announces the Launch of Her First Fragrance, Outspoken
The Black Eyed Peas', Fergie, just announced the launch of her first scent, Outspoken. The fragrance doesn't hit stores until September 2010 but some sexy images from the campaign were released and the singer is sure to turn heads (and noses) once the Avon
fragrance
is released this fall.
"Outspoken definitely turns heads, but it also lets your true personality shine through," Fergie states of the scent's overall concept in a release. "From my music to my wardrobe, my style is all about speaking up and making a statement." The singer makes a bold statement by personalizing the black translucent bottle with a top that was inspired by the décor of her bridal suite for her wedding to husband Josh Duhamel.
The Avon fragrance, a steal at $28, boasts notes of jasmine, tuberose, starfruit and passion flower with black leather and we're sure this is just the first of many fragrances for Fergie ferg.
The pop singer is keeping pretty busy these days. In addition to this perfume launch, she and The Black Eyed Peas are set to play at The World Cup kickoff concert in South Africa. It has been reported that the chart-topper even got to meet Nelson Mandela and, she says that meeting the famed world leader was "one of the best moments of my life." A new perfume and an audience with Nelson Mandela? It's been a good week for Stacy Ferguson.
Will you try Fergie's new fragrance, Outspoken?