Britney Spears Tweets about Her New Radiance Fragrance Commercial
Posted on September 1, 2010, 1:57 PM
The newly buff singer reveals the video to her ninth women's perfume, Radiance.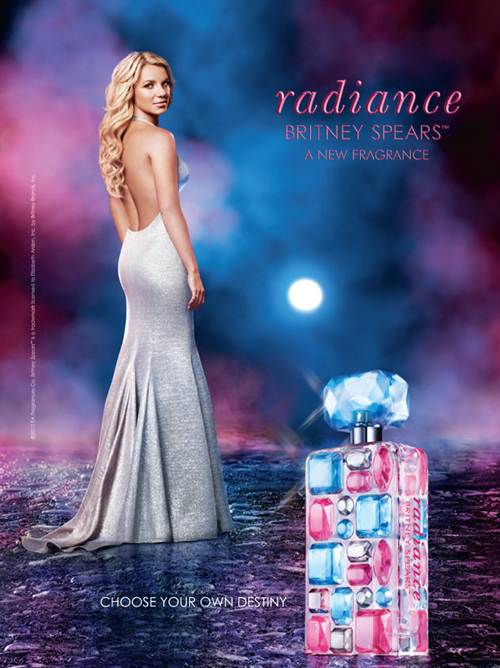 Britney Spears Tweets about Her New Radiance Fragrance Commercial
Pop princess Britney Spears revealed a sneak peak of the video for her latest
fragrance
campaign, Radiance, via Twitter on Monday. The highly publicized tweet stated "Aloha! Here's my new commercial for Radiance…do you like?" As part of the ad's story line, which will begin running on networks in early September, a glamorously-clad Spears ditches a fortune teller in favor of choosing her own destiny. Very Britney, no?
The chart-topping singer also divulged a preview of the ad campaign last month, tweeting "Just got the imaging for my new fragrance Radiance and thought I'd share it with all my tweethearts," the singer wrote. The ad showcases an elegant version of Britney with a jeweled bottle to match that's decorated with pink, blue and translucent gemstones. "I love the feminine scent of my new perfume Radiance. It has the power to make any woman feel beautiful," Spears says in a release about her ninth fragrance. The scent boasts top notes of luscious wild berries and soft dewy petals convey a feeling of unparalleled allure.
The wild berry, tuberose and jasmine Elizabeth Arden scent is priced from $18 to $60 online now at BritneySpearsBeauty.com, where you can also view the video.
When the pop singer isn't busy tweeting about her fragrance campaigns, lately she's been spotted frolicking on the beaches of Hawaii showing off her hot bikini body. TMZ spotted Spears this past Sunday in Hawaii with her boyfriend, Jason Trawick, according to sources. Spears spent the morning relaxing in the sunshine at their hotel and was seen walking around the pool area with a cocktail.
Spears also recently filmed an upcoming episode of the hit TV show "Glee" where the cast is rumored to perform to a few of her chart-topping hits like "Hit Me Baby…One More Time," "Oops I Did It Again" and "Womanizer." Though Ryan Murphy, the show's creator, confirmed on Ryan Seacrest's radio show that only the cast will be singing Spears' hits, the singer does definitely have a cameo in the episode.
What do you think about Britney's video campaign for Radiance? Does it make you want to try her ninth perfume?
--Jamie Stone