Actress Sara Rue's Body Never Looked Better! She Lost 50 Pounds!
Posted on August 4, 2010, 12:01 PM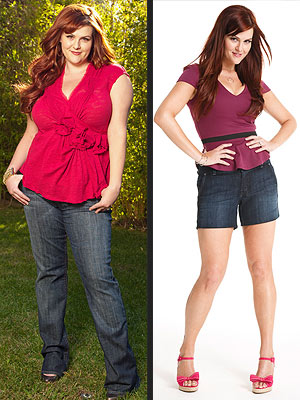 Photo Courtesy of: People Magazine
Remember her? The slightly chubby girl from the CW series "Popular" who desperately wanted to get on the cheerleading squad but didn't make it due to her low-rung status in the popularity hierarchy? No? Apparently, the show wasn't
popular
enough as it only lasted two seasons, but Rue went on to guest star in various sitcoms, one including playing Leonard's slightly chubby girlfriend in "The Big Bang Theory" and had the lead as the slightly chubby TV anchor on "Less Than Perfect." Her bubbly personality and demeanor always shined through her characters, but her weight never failed to play a role. Last December, Rue decided to kick-start her weight loss and became the new spokesperson for Jenny Craig. After the success of actress Valerie Bertinelli, now starring in the show "Hot in Cleveland," Rue (with Bertinelli as her mentor) continued to show up on the endearing commercials appearing thinner and thinner. Now, after eight months, Rue has lost 50 pounds of
body
weight.
In an interview with
People
magazine, Rue said she lives a much healthier life with proper eating and exercise habits.
"I have such a better relationship with food than I've ever had in my life," she said. "I've learned how to control portions, I've learned how to eat healthfully."
Where once walking the dogs around the block constituted her weekly workout, Rue now spends 45-60 minutes on the treadmill five to six times a week.
"I spent the first few months of this program wearing my pedometer and getting in my 10,000 steps every day. When I started running I would run for one minute and walk for ten. Now I can run for two-and-a-half hours straight. That's insane! I never would have thought six months ago that I would be able to run that much."
With her newfound joy in exercising, the 5'8" actress went from a size 14 to a size 6 -- and she never looked better. Looks like Rue's weight loss couldn't have better timing, as she's soon to be a blushing bride in her spring 2011 wedding to teacher Kevin Price. The actress went shopping for her wedding gown recently and walked into Vera Wang in Beverly Hills to check out a 70 percent off sale.
"I wandered to the back of the store where all the bride gowns were. The woman zipped it up and she had to clamp it in the back because it was too big," she said, laughing. "It was just a great feeling."
I can't wait for Rue to show off her well-deserved figure on her wedding day. Check out this
wedding day beauty countdown
list to see if you're on track for your upcoming nuptials as Rue is.
By Sharon Yi