Actress Eva Longoria Parker Shows off Voluminous Hair in Her Perfume Campaign
Posted on December 24, 2009, 3:06 PM
While she's had a lot of practice being a spokesmodel in a national campaign, "Desperate Housewives" star Eva Longoria Parker will be featured in the ad campaign for her first fragrance, Eva by Eva Longoria, set to be released in stores in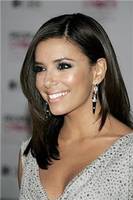 Even with straight hair, Longoria looks flawless
The actress, pictured here at a previous event with heavy liner and straight hair, has added herself to the long list of celebrity fragrances, and shimmers next to her new product.
The actress is seen with sexy voluminous hair that gives her a glamorous look. However, you don't have to be the feature of an ad campaign to get this look.
Simply start by adding mousse to your wet hair to give it some style. After letting your hair air dry a bit to get extra texture, finish it with a quick blow-dry that will make it extra voluminous.
Once your hair is dry, start taking pieces of you hair in a large-barrel curling iron to get full curls. Don't worry about curling all your hair. In fact, it's better to do it sporadically.
For girls with long hair like Longoria, be sure to only curl half way up, and finish with hairspray.