What Wedding Hairstyle Should Chelsea Clinton Wear for the Estimated $3 Million Ceremony?
Posted on July 29, 2010, 6:24 PM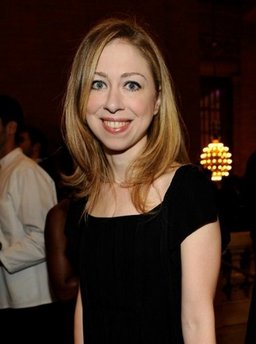 Photo Courtesy of: Yahoo News
What's a girl supposed to do when she's in love while being the daughter of a former president and the current Secretary of State? Have a huge, lavish wedding with A-list politicians in attendance and an estimated $3 million price tag, of course! We're talking about none other than Chelsea Clinton, famed daughter of a powerful duo, who's in love! Sigh.
After getting engaged last November, Chelsea is finally tying the knot with investment banker Marc Mezvinsky this Saturday at the small upstate New York village of Rhinebeck. While the town may seem provincial, the ceremony will take place at the Astor Courts, which can easily accommodate the ceremony's expected 500 guests.
While it's naturally assumed that the ceremony, though local, will be a destination wedding for many A-list dignitaries, the current President (Mr.Obama) has
not
been invited. The horror.
On "The View" today, Mr. Obama told the ladies that he will not be attending.
"I was not invited to the wedding, because I think Hilary and Bill, properly, want to keep this thing for Chelsea and her soon-to-be husband. You don't want two presidents at one wedding! All the secret service, guests going through [metal detectors], all the gifts being torn apart," Obama said.
I, sadly, am also not invited, but I can still gab about how beautiful our Chelsea will look on her big day. While the nuptial details are privy only to the in-laws and the happy couple, we can ponder what her
wedding hairstyle
will be like to accompany her Vera Wang gown. Chelsea had some great hairstyles in the past and even made our
Washington's Best Hairstyles
gallery along with many other female politicians, one of whom is Sarah Palin who recently fought down rumors of getting breast implants (read the full story
here
).
If you're planning on getting hitched soon as well, find out
which hairstyle to wear with which gown
. You can also check out how to do your own wedding hairstyle with this DIY
video tutorial
.
While the average American wedding prices at around $24,000, the Clintons aren't sparing any luxuries for their princess. Referred to as a "royal wedding of the U.S." and the wedding of the decade, the Chelsea-Mazvinsky ceremony is expected to cost anywhere from $3 million to $5 million.
Deputy editor of Brides magazine Sally Kilbridge said, "When you look at someone like Chelsea -- who seems like a very serious, sober-minded woman and very committed to her fiancé -- then you look at it, and say, 'This is a really high profile family, they've waited for a while for her daughter to fall in love, they're doing it right.'"
By Sharon Yi