Prince William and Kate Middleton are Engaged to be Married
Posted on November 16, 2010, 9:43 AM
After 8 long years together the Prince has finally popped the question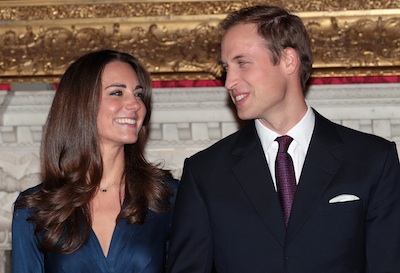 Prince William and Kate Middleton Are Engaged to be Married
It certainly took a while - eight years to be exact - but Prince William has finally proposed to his longtime girlfriend, Kate Middleton. "The timing is right now," William told the press on Tuesday. "We're both very happy, and I'm very glad that I have done it."
It was while on vacation last month in Kenya that William got down on bended knee and offered Kate his late mother's diamond and sapphire engagement ring, and while the news itself isn't really surprising since it's long seemed to be a matter of "when" not "if," the
way
it was first announced was certainly untraditional.
According to the HuffingtonPost.com, the proclamation was first made not via the royal press secretary but on Twitter! "The Prince of Wales is delighted to announce the engagement of Prince William to Miss Catherine Middleton - www.princeofwales.gov.uk," the Tweet read. And, in a highly unexpected move, his grandparents responded in kind, tweeting; "The Queen and The Duke of Edinburgh are absolutely delighted at the news of Prince William and Catherine Middleton's engagement."
The tech savvy monarchy aside, the Internet is abuzz with reports about the long-anticipated engagement and the fact that the ceremony is slated to happen sometime next spring or summer.
"Everyone is absolutely delighted," "PEOPLE" magazine quotes an old family friend as saying. "He has never had eyes for any other woman since Kate came on the scene," says an old friend. "She is going to make a wonderful wife, a wonderful princess."
Of course the 1981 fairytale wedding of William's parents, Charles and Diana, will be a hard act to follow but Middleton will most certainly be a beautiful
bride
for the future King of England.
And, while becoming a member of the royal family isn't something to be taken lightly, Middleton appears to be up to the task. "It's quite a daunting prospect" she said during a photo shoot on Tuesday, "but hopefully I'll take it in my stride. "William's a great teacher, so he'll be up to help me … I really look forward to it, and look forward to spending my time with [him].
She'll also, no doubt, be spending some time with William's younger brother, Harry who today said "I am delighted my brother has popped the question, it means I get a sister, which I've always wanted."