Beauty Queen Carrie Prejean's Getting Married on Friday, Hope Her Wedding Hairstyle Isn't as Bad as Her Attitude
Posted on June 30, 2010, 12:07 PM
Former Beauty Pageant Queen Carrie Prejean is doing the unthinkable ... getting married!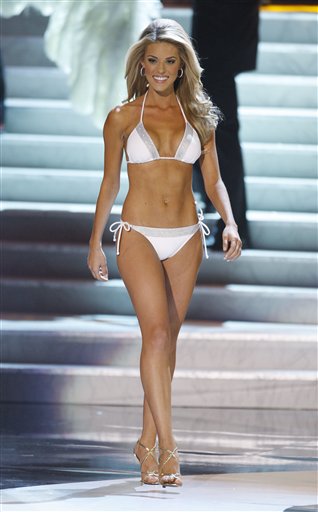 Beauty Queen Carrie Prejean's Getting Married on Friday, Hope Her Wedding Hairstyle Isn't as Bad as Her Attitude
After all the gay marriage controversy that stole the media (and the Miss USA crown off poor Carrie Prejean's runner-up, blonde head), Prejean just announced that she's getting married this Friday to NFL quarterback Kyle Boller at the Grand Del Mar hotel in San Diego.
They were engaged just a few months ago on February 7th. Five months seem hardly enough time to plan a wedding (picking the perfect
wedding hairstyle
takes weeks alone), but the former beauty queen somehow managed to pull it off. If you're recently engaged, I suggest taking a year to get ready for your wedding day -- at least beauty-wise with this
wedding day beauty countdown.
If you remember, Prejean pulled other things off too -- off her
body
that is. Her Miss California Beauty Pageant title was revoked shortly after her nude-y pictures (and sex tapes) showed up online. Her true five minutes of fame, however, really started on stage when pageant judge (and openly gay), Perez Hilton
(who's been in the headlines himself recently)
, asked Prejean for her thoughts on same-sex marriage.
We may all not agree with her definition of what constitutes a marriage, her under-the-radar paid-for boob job or her new career path as a "motivational speaker," but we can't help but admire her fabulous tan. What? We are a beauty website after all. If you love her sun-kissed bronzy glow, check out
these best self-tanning products
) to get the tan without the melanoma. And while you're faux-tanning why not
faux-tone your body
too? With the summer sun heating up the parked cars and beach sand, don't forget to stay UVA-protected with these
best sunscreens
. See, you can grab Prejean's body without her controversial mess.
Let's just hope her wedding makeup and hair are as hot as all the drama she's been caught up in.
By Sharon Yi