Beauty Queen Carrie Prejean to Marry NFL Player Kyle Boller
Posted on February 8, 2010, 12:39 PM
Kyle Boller, the quarterback for the St. Louis Rams, popped the question to former Miss USA runner-up Carrie Prejean over the weekend. Her wedding hairstyle may be accompanied with a crown.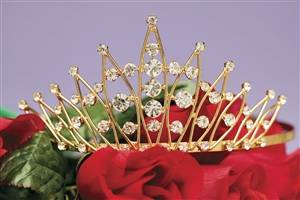 Former Miss California set to marry Kyle Boller.
It has been a whirlwind romance for the pair, who met in July of last year when Prejean was embroiled in controversy surrounding her opposition to same-sex marriage, which she was very vocal about during the Miss USA competition.
However, it seems that ex-Miss California has no problem saying "I do" herself.
Prejean took second place but was later dethroned for contract violations. Pageant officials claimed that Prejean refused to attend certain events, but it was speculated that the a widely circulated sex tape and topless photos featuring the lady herself were part of the reason behind the decision.
However, the 22-year-old blonde beauty queen has plenty of experience getting all glammed up for competitions, so we're sure that her hair and makeup will look great on her wedding day. We're just a little bit worried that she might want to wear a crown down the aisle.