Zac Efron and Vanessa Hudgens on "a Break?"
Posted on December 13, 2010, 11:22 AM
Did Zac Efron and Vanessa Hudgens break up for real this time? Find out!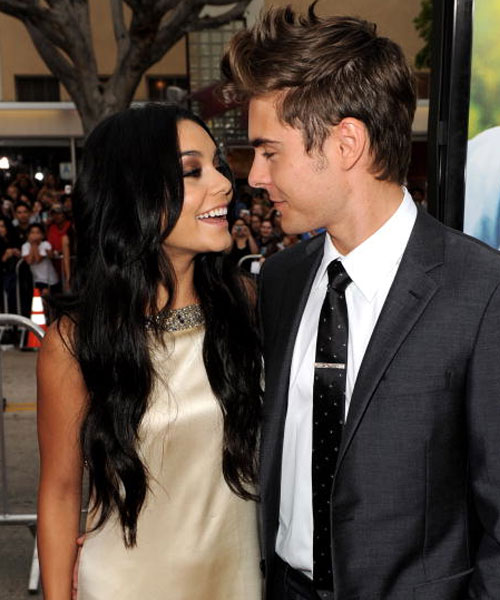 Zac Efron and Vanessa Hudgens on "a Break?"
On his Los Angeles-based KIIS FM radio program this morning, Ryan Seacrest ran a report that Zac Efron and Vanessa Hudgens are
"taking a break."
(Cue horror music.)
During an on-air interview Seacrest asked E! News correspondent Ken Baker whether the rumors of the Hollywood couple's break-up were true. Efron, 23, and Hudgens, 21, famously met on set of Disney's "High School Musical," an automatic Disney hit that shot-gunned the on-screen lovers into an off-screen paparazzi gold mine. Their young love quickly became a fairy tale romance with their doting relationship lasting through both "High School Musical" sequels. As Baker noted, they've been together for "about 25 percent of their lives."
Yet all love stories don't make it to "happily ever after" and in this case, it looks like the five-year-long romance has come to a bitter end. Baker said on air that they've been "having a lot of problems" and "not getting along."
They reportedly recently went to Hawaii "to resurrect things," but as Baker suggests, "when couples go away together, the just come back and it didn't work out. That's what I'm told has happened. I'm told Zac and Vanessa
are
taking a break."
Neither star's camp is confirming the break-up, but Baker reports the couple are apart at the moment anyway with Efron out of California while working in New Orleans on his next film, "The Lucky One," which is about a Marine who comes home from Iraq to search for the woman he thinks was his good luck charm. Hudgens is also coming out in a new movie, "Sucker Punch," where she breaks out of her HSM character, Gabriella, (but does maintain her characteristic
wavy hair
).
Maybe they'll get back together or maybe the relationship has run its course, but one thing's for sure, fans around the world will be saddened by this unhappy news as in the end, life isn't a feel good musical and we're really not "all in this together."
-- Sharon J .Yi