Whitney Port Rocks Vintage-Inspired Curls at LG Party
Posted on January 11, 2010, 3:51 PM
Whitney Port recently co-hosted the LG Lotus Elite Party in Las Vegas, Nevada, with a retro hairstyle to match her vintage dress.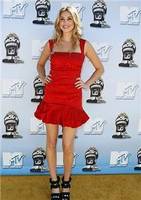 Here, Port's wavy tresses hang effortlessly for a beachy feel
Port's long, luscious curls perfectly complemented her overall look and made her resemble a Hollywood superstar from the 1950's.
Port, pictured here at a previous event with her hair in soft waves, exemplified sheer elegance at the event. She wore her healthy, shining tresses loosely draped over her left shoulder.
Want luscious locks like Port? Start by applying a golf-ball sized amount of mousse to your hair when you get out of the shower. Blow-dry your strands for extra shine and to keep frizz to a minimum. Once your hair is dry, take a comb and divide it at your usual part.
While your large barrel curling iron is heating up, carefully separate your hair into quarter-inch pieces and pin them up so that you can focus on one bit at a time.
Clamp ends into the bottom of the curling iron and curl hair about two-thirds of the way up, leaving the top portion of each section sleek and straight.
Finally, lightly brush all of your hair to one side with your fingers (being careful not break the curls) and pull it around to one side. Mist your hairstyle with hairspray so that it stays in place, and you're ready for whatever glamorous event comes your way!