Taylor Momsen Known for Her Wavy Hair and Being a "Brat"
Posted on September 15, 2010, 4:05 PM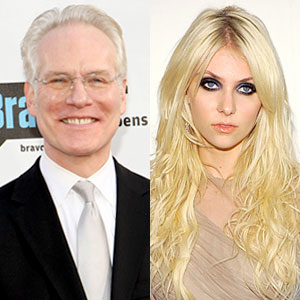 Photo Courtesy of: E! News
A few weeks ago fashion icon Tim Gunn was on the set of a "Gossip Girl" filming for this season's fourth episode. After working with "Gossip Girl" star Taylor Momsen, the celebrity fashion guru called the teen celeb "sad" and "pathetic!"
"What a diva!" he told
E! News.
"She was pathetic, she couldn't remember her lines, and she didn't even have that many. I thought to myself 'why are we all being held hostage by this brat?' "
As the style mentor on "Project Runway" and the new Chief Creative Officer at Liz Claiborne Inc., Gunn made a name for himself by having a keen eye in fashion and telling the contestants to "make it work." He recently published a book titled "Gunn's Golden Rules" and even had a cameo in "Sex and The City 2" movie.
The 57-year-old said if he worked on set with Momsen all the time, he would give her a little "talk."
"I'd say, 'You know young lady, there are hundreds of thousands of girls who are just as attractive and even smarter than you. Why are you acting like this show is a huge burden on you?' She was on her phone during every break, I wanted to tell her, 'If you weren't on your BlackBerry, you can retain this stuff.' ''
You tell her Gunn! He said that Momsen was "annoying" to the entire cast and director saying, "At one point the director leaned in and whispered to me, 'this is day in, day out, my life.' She annoyed the entire crew."
While Gunn hammered on the 17-year-old rock star, he said everybody else on the cast was a "delight" to work with. Ouch. Hey Momsen, maybe it's time to clean up your grunge act and wear some pants like everyone else, yea?
The lead singer of rock band "Pretty Reckless" has been making headlines recently by parading talk shows to promote her new album "Sex Drugs Religion" without wearing any pants. Ever a constant entertainer with a never ending flow of upskirt pictures from the paparazzi, Momsen has been the focal point of many media attacks on her scantily clad clothing and controversial lyrics.
In addition to her bizarre aversion to pants, Momsen is also known for her trademark long, platinum blonde,
wavy hair
along with her gothic raccoon-eye makeup and red lips. She actually isn't a bad idea for a Halloween costume this fall. What do you think? You can copy her makeup look with
these makeup tips
.
By Sharon J. Yi