"Sex and The City 2" Premiere Wavy Hairstyles: Hippie Chic Or Sloppy?
Posted on May 25, 2010, 4:46 PM
Last night was the world premiere of the Sex And The City 2 at Radio City Music Hall in New York and, the entire cast showed up to support the film's premiere.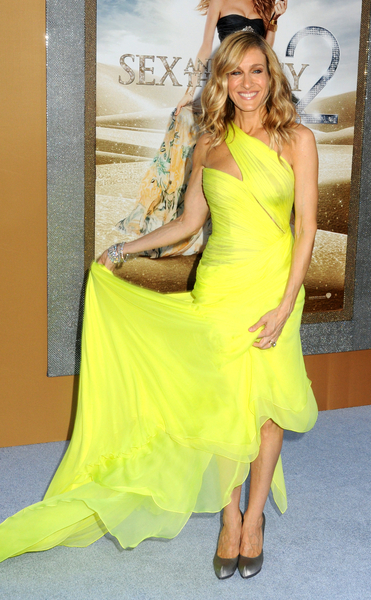 "Sex and The City 2" Premiere Wavy Hairstyles: Hippie Chic Or Sloppy?
Most people are excited for the upcoming holiday weekend however, females all over the world have totally forgotten about Memorial Day and, have instead put all their excitement into the upcoming theatrical release of "Sex And The City 2".
While all four of the ''SATC2'' ladies looked absolutely gorgeous in their dresses, it was more than the story plot of the movie that was seriously lacking. Sarah Jessica Parker, Cynthia Nixon and Kim Cattrall all opted for super boring hairstyles.
Three of the ladies went with soft hippie like waves while Kristin Davis went with a pulled back ballerina bun. Nothing about any of these leading ladies hairstyles represents what I remember ''Sex and The City'' to to be about; Sex and more importantly, sexy hairstyles.
Sarah Jessica Parker does look the most polished. However, looking the best out of a group of people who at their best look at 5 out of 10, isn't such an accomplishment.
Parker's hairstyle is really bland and honestly so is her Valentino Couture dress. Not to mention she definitely overdid it with the self tanner. Parker's entire ensemble kinda lacks any vision. It is a gorgeous summer yellow Valentino that hugs her upper assets but, it is nothing Carrie Bradshaw would ever be caught showing up to a premiere in. The hairstyle is also playing it too safe, where is the silly bird headband thingy she wore in the last movie?
Kim Cattrall looked really great in her gold Naeem Kahn dress but, her hairstyle and more importantly those waves in the front were just not ideal. Her hairstyle is halfway 19020's flapper/ halfway boho hippie chic and it totally doesn't do her outfit any justice. All I can see is the heavy waved bangs in the front. The whole look could have be super hippy chic (and hot!) if her bun was less manicured and her part to the side was not so dramatically exaggerated.
Cynthia Nixon isn't one to usually show up all dressed to the nines but, with her outfit and that hairstyle, she really does just kind of fades into the background. Nixon wore a black Carolina Herrera gown. While her hairstyle isn't dreadful, it is wavy and super simple. Nothing to write home about and definitely nothing that will inspire.
Kristin Davis' hairstyle is a simple ballerina bun, only problem is that it looks sloppily put together. It just once again shows that all the women played it super safe this year when it comes to their hairstyles and outfits.
Nothing was overdone or honestly super glamorous which... is what you expect and look forward to from SATC.