Selena Gomez Lightened Her Hair Color with Highlights
Posted on October 18, 2010, 6:17 PM
The Disney star debut her new album and a new hair color. Will teen hairstyles follow her lead?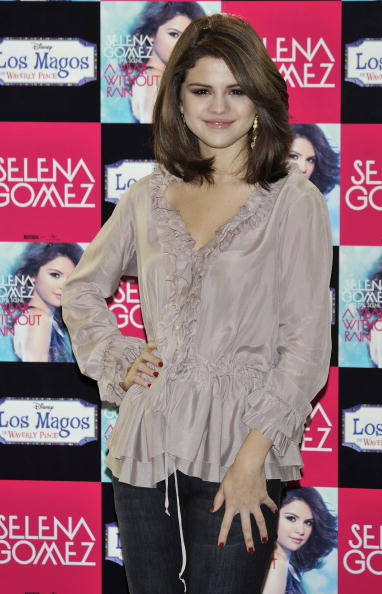 Selena Gomez Lightened Her Hair Color with Highlights
Disney star Selena Gomez just launched her new album, "A Year Without Rain" in Madrid today, but her hair got more press than her music.
With a new hairstyle sporting a lighter do, the pop singer rocked caramel-colored highlights in her golden brown lob (long bob). Her
hair color
is usually much darker worn in a deep brown/black shade, but her new look got rave reviews in the Spanish capital.
The 18-year-old had a busy week promoting the new album for her band Selena Gomez & The Scene. Last Thursday she was spotted in London for the launch. But the Disney starlet's work is just getting started. Along with the launch of her second album, a new season of the Disney TV Series "Wizards of Waverly Place" is starting in a month and her own clothing line is "in the works."
Gomez' rise to fame began with the TV series, which soon became a family favorite and won an Emmy. The TV show was used as a launch pad for her music career, as she came out with her first album "Kiss & Tell" two years later selling over 570,000 copies.
Her beginnings are rather familiar as we all know the story of Miley Cyrus who started on a similar track with the Disney show "Hannah Montana." Cyrus' much celebrated child stardom was an easy moneymaker for the entertainment giant, and Gomez was another sure winner. Naturally the two became rivals with Cyrus teaming up with singer Taylor Swift and Gomez becoming best friends with fellow Disney star and musician Demi Lovato.
Gomez also starred in various Disney films as well including "Wizards of Waverly Place The Movie," "Another Cinderella Story" and "Princess Protection Program." Her theatrical film debut was as Beatrice Beezus Quimby in "Ramona and Beezus."
Do you like the starlet's new hair color? Check out which
celebrities have the best hair color here
.
-- Sharon J. Yi