Rihanna Sports a Beachy Short Hairstyle on Her Way to Mexico
Posted on January 6, 2010, 9:25 AM
Who says one can't look chic while traveling? When singer Rihanna was spotted with Matt Kemp - her rumored new beau - at LAX airport, her typically sleek locks were wavy and carefree.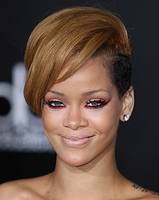 Rihanna usually sports pin-straight hair
The singer, pictured here at a previous event with her trademark hairdo, was journeying to Mexico for what appeared to be a romantic getaway. To match the amorous mood, Rihanna sported wavy tresses for a relaxed, beach-vacation vibe.
Want a cute, wavy hairstyle like Rihanna? Short-haired ladies will find that this look is perfect for them. As soon as you get out of the shower, create texture by scrunching your wet hair with a golf-ball sized amount of mousse. Be sure to really bunch your hair together so that the product sets in.
For soft and shiny curls, let your hair air-dry. To make sure that your style sets, spritz strands with a bit of curling serum and continue scrunching at 15-minute intervals.
If you're in a rush and don't have time to let your hair air-dry, you may use a hairdryer with a diffuser attachment. Place the diffuser under small sections of hair and hold it there until your strands are fully dry.
Before heading out, apply a final squirt of hairspray and you'll be ready to show off your luscious locks.