Salma Hayek Debuts Stylish New Haircut
Posted on December 15, 2009, 2:12 PM
Trying something different from her typical look, actress Salma Hayek attended a charity event in Berlin with a much shorter hairstyle.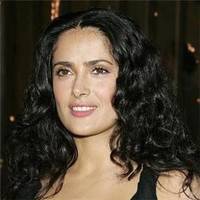 Hayek was once known for her long hair
Hayek, pictured here at a previous event with her long hair, recently underwent a style transformation that resulted in her sporting a chic new bob.
This is a new look for Hayek, who has been known for her long, flowing locks. The style just grazes the actress' shoulder, showing a clean cut. The actress wore her hair down with a side part for the event.
The bob may be a great look to try for people with long hair who are looking to change it up. Depending on the length, this hairstyle can be universally appealing.
The haircut complemented Hayek's strapless dress, which she chose to accent with a statement choker. The neckline of the dress showed off her new hair length to the fullest.
Hayek chose to do a smoky eye for a dramatic makeup effect. The use of purple and gray eye shadows really played up the actress' brown eyes and the thick coats of mascara really made her eyelashes pop. A nude lip gloss, which can add a subtle touch for anyone, completed the look.