Kim Kardashian Got a New Straight Bang Haircut
Posted on August 20, 2010, 3:03 PM
Do you like Kim's new bangs?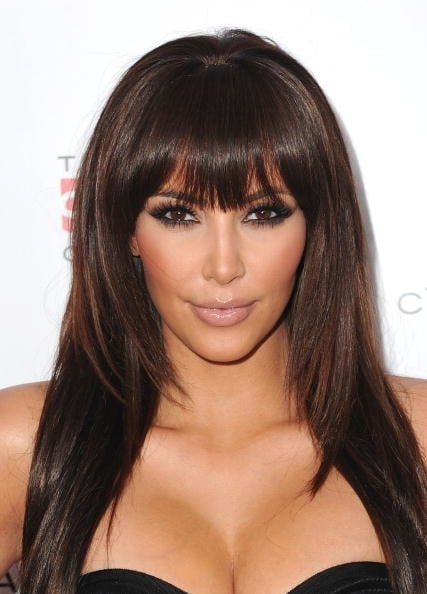 Kim Kardashian Got a New Straight Bang Haircut
Socialite Kim Kardashian debut her new
haircut
last night at the premiere party of "Keeping up with the Kardashians" and "The Spin Crowd." The party was at Trousdale in West Hollywood and she came dressed to play. She maintained her hair length, but got long bangs cut straight across that grazed her eyes. Her straight bangs coupled with her straight sleek hair brings more attention to her prominent facial features.
Kim's hair is always perfectly styled and long. Check out this
gallery of all her great hairstyles
.
Experimenting with your bangs is a great way to change up your hairstyle without risking a terribly bad cut, since they grow back quickly. You can cut your own bangs or you can get them done at a salon. Most salons don't charge for just a bang cut, so you would only have to pay for tip. If you don't like the new bangs, don't freak out as it may take a few days to get used to the new 'do and for the hair to learn to settle around your face the way you want it to. With new bangs, check out this
video tutorial
on how to style your bangs. You can also check out these tips on
what to do if you get a bad bang cut
.
And if you're feeling bold, check out
these daring haircuts to try
.
Kim is best known for her curvaceous
body
, which is forever embodied at Madame Tussards Wax Museum (
read all about it here
). Her reality TV show "Keeping up with the Kardashians" is on its fifth season and started a spinoff called "Khloe and Kourtney Take Miami," where Kourtney famously tried to give her sister an at-home bikini wax.
Keeping up with the Kardashians truly is a handful with five sisters each making headlines of their own keeping us all wondering what they will do, or cut, next.
But back to the haircut question: Do you like Kim's new bangs? You can copy her look with this
video
.
By Sharon Yi