Mariah Carey & Nick Cannon's Baby Shower
Posted on March 7, 2011, 9:56 AM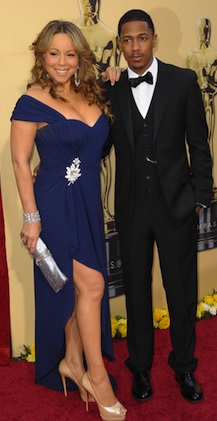 The handsome couple seen here at the 2010 Oscars
Mariah Carey and Nick Cannon hosted an adults only baby shower at the ritzy Montage Hotel in Beverly Hills on Sunday evening.
The ecstatic parents-to-be, who're expecting boy/girl twins this spring, decorated the hotel's Conservatory Grill with blue and pink balloons and, according to PEOPLE magazine, pink roses and blue hydrangeas topped each of the many cocktail tables.
"Mariah has been anxiously awaiting her shower, and she was very excited when she arrived at the hotel," a source told the magazine. "She couldn't wait to celebrate her baby twins with her friends."
The couple, who married in the Bahamas in 2008, arrived at the event in the black Rolls Royce that Cannon (30) gave to his wife (41) for Christmas -- and it's a good thing they had plenty of trunk space because, according to several published reports, they got a whole bunch of pink and blue baby gifts including two giant stuffed giraffes, a couple of handmade chairs and custom bedding for the cribs.
The guests chowed down on hors d'oevres and, what else,
Angel
champagne. As for the glowing mom-to-be, whose
long hair
was styled into a cascade of flattering curls, she "had the best time at her shower," the source said. "She was very touched by how nicely everything turned out and excited about all the generous gifts she received. She has been feeling a bit tired and worn out lately, but the shower was an event that she really enjoyed and that made her very happy. Now she can't wait to meet her baby twins!"