Long Hair and Heavy Makeup Still Reign at Miss USA Competition
Posted on May 17, 2010, 1:16 PM
Rima Fakih of Dearborn, Michigan, took home the crown at last night's Miss USA competition. And, though Fakih nabbed the superlative title, we think that all of the ladies, who sported lots of makeup and long hairstyles (as usual), looked gorgeous.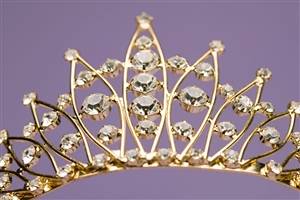 Long hairstyles popular at this year's Miss USA pageant
The 24-year-old brunette beauty may be the first Arab-American to nab the coveted title, though pageant officials claim that since the competition's inception, records have not been detailed enough to determine if Fakih really is the first person of Arab descent to win the honor, according to the "Huffington Post."
So, was Fakih shocked when her name was announced? Not really! After the competition, she told reporters that the expression on pageant owner Donald Trump's face tipped her off.
"That's the same look that he gives them when he says, 'You're hired,'" on Trump's reality show "The Apprentice," she told the press, according to the news source.
While we love watching the ladies get all done up for the big night, someone needs to tell these girls to go a little easy on the makeup and hairspray. How about a
natural beauty
competition one of these years?