Have Kate Gosselin's Hair Extensions Gone to Her Head?
Posted on March 15, 2010, 11:49 AM
Kate Gosselin, who of late is as famous for her long blonde hair extensions as she is for her brood of kids and messy divorce, has apparently been a total diva on the set of "Dancing with the Stars."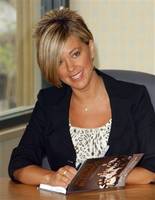 Kate Gosselin's attitude is getting as much attention as her new hair extensions.
"The New York Post" recently reported that Gosselin, pictured here with her old short hairstyle, has been cool and distant toward the other contestants on the competitive reality show, and behaved badly to members of the crew.
"While there's a lot of camaraderie among the crew and other stars including Pamela Anderson, Kate has set herself apart . . . She wants to be queen bee," a source told the news provider.
Anyone who has seen "Jon and Kate Plus Eight" knows that the lady has a bit of a temper, but we have to wonder how much of her grumpy behavior can be attributed to jet lag.
In her defense, Gosselin has been rehearsing in her basement with her partner, professional dancer Tony Dovolani, and flying to California for the actual competition. Instead of intentionally playing it cool, the mother of eight might just be really, really sleepy.