Penelope Cruz Sports a Feminine Braided Chignon at "Nine" Premiere in Rome
Posted on January 14, 2010, 2:14 PM
Let it be known that Penelope Cruz has one of the most luscious heads of hair in Hollywood. The Spanish actress' long hair is the kind of locks that most girls dream about having. Though Cruz usually chooses to let her strands fall freely,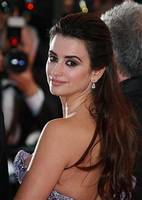 Cruz's long locks are envied by many
Cruz, pictured here at a previous event with her hair half swept back, arrived at the event with her strands gathered in a delicately braided chignon that perfectly complemented her feminine features.
Want the same lovely look for yourself? Start by using a comb to neatly divide your hair at its usual part, taking extra care to keep it smooth. Next, braid your tresses loosely so that the top of your hair looks relaxed - don't pull hair too tightly - this is supposed to be a loose, romantic hairstyle. Keep the braid in place with a small hair elastic.
Twist the braid into a low bun and tuck the braid in and under, securing it with a few bobby pins.
Finally, spritz your head with a small bit of hairspray to ensure the hairstyle doesn't fall out of place, and you're ready for whatever glamorous event comes your way!