Kate Winslet Debuts New Platinum Blonde Haircut
Posted on March 9, 2011, 3:25 PM
The 35-year-old actress has gone through her own break-over with a shocking new haircut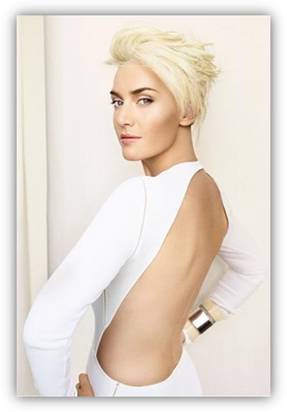 Kate Winslet Debuts New Platinum Blonde Haircut
Actress Kate Winslet debuted her new shockingly short
haircut
on the cover of British "Vogue". Her usual long honey blonde-colored locks have been replaced by a platinum blonde pixie. Following the short haircut celebrity trend (Emma Watson, Hayden Panettiere, and many more), Winslet looks, dare we say, smashing. The platinum blonde is a new color for the 35-year-old who's had her fair share of color experimentation -- remember the many hair hues of her character in "Eternal Sunshine of the Spotless Mind"?
Perhaps the drastic departure from her usually tame off-screen color choices of warm blonde hues is due to her latest breakup with male model Louis Dowler, a relationship she began after her recent divorce from director Sam Mendes.
In "Vogue," she says, "Experiencing those moments of being alone...is a very, very weird flooring and exposing position to be in when you're just not used to it...But I've never been lonely. And with my kids Mia (her daughter with first husband Jim Threapleton) and Joe that remains the case."
Even beyond her iconic role in "Titanic," Winslet is well known for her gripping performance in "Revolutionary Road" and her endearing search for love in "The Holiday," and with her career continuing on, she is seemingly not letting her love life deter her.
"Last night I went out for a drink with two friends and, as we were walking, I said, 'God, you know, I feel so good.' Not in a, 'Wow! I feel so good!'-way, but just in that quiet centered way. I'm almost surprised by it. I feel well, I feel healthy. I feel clear. I feel centered," she says.
Winslet is starring in the HBO mini-series "Mildred Pierce" which premieres March 27th. She also has a slew of big screen films lined up including "Contagion" and "Movie 43."
-- Sharon J. Yi