X-Men's Jennifer Lawrence Shows Her Buff Body in W Magazine
Posted on September 30, 2010, 8:26 AM
At the tender age of 20, the actress shows some chutzpah in Hollywood.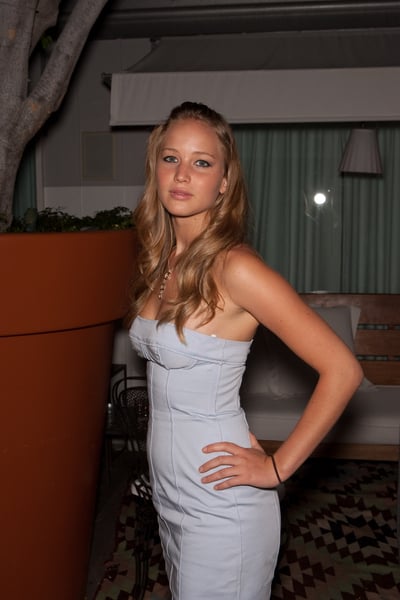 X-Men's Jennifer Lawrence Shows Her Buff Body in W Magazine
At first glance, actress Jennifer Lawrence doesn't appear like the average 20-year-old rising starlet – that's because she's intentionally built her career to avoid that label.
Unlike many her age who might be squandering their spotlight and youthful looks and
bodies
away on tabloids and party hopping, Lawrence is trying to learn how to skin a squirrel in the woods. Seriously.
In the September issue of W magazine, Lawrence talked about her latest film, "Winter's Stone" in which she plays a 17-year-old girl trying to survive with her younger siblings in the Ozark Mountains. The movie, which garnered Grand Jury Prize at Sundance, is generating Oscar buzz now, so it's no big surprise to see the magazine put Lawrence on the cover, as well as make her the headliner for its cover story, "The Brave Ones" – which features seven other "fiercely talented actresses who are putting the boys to shame." (Yaya DaCosta, Greta Gerwig, Kat Dennings, Jessica Chastain, Emma Roberts, Zoë Kravitz and Mary Elizabeth Winstead are also featured in the issue.)
But while the rest of the lovely cast basks in Hollywood headshots, Lawrence's
body
is shot in the full nude. Meticulously positioned over what looks to be a table and stool, one hip thrusting up, lies the beautiful Lawrence– carefully placed shadows hide precise areas. Perhaps, more breathtaking is her crimped-to-perfection hair that cascades down her bare shoulders, which languidly hang off the table's edge in a very she-wolf pose. For a split second, the reader might be looking at Daryl Hannah as the mermaid she played in 1984's "Splash."
"I don't feel young," she told W magazine. "Even [when] I was 14, I knew I wasn't a Disney kid, I knew I didn't want to play any of the typical stereotypes."
The black-and-white image essentially captures, what the media is calling Lawrence's "intense sense of purpose" attitude of the moment, which has her taking roles as "Winter's Stone," Jodie Foster's "The Beaver," which stars Mel Gibson, and Matthew Vaughn's "X-Men: First Class." Lawrence plays the indigo-painted Mystique – a role that will require 12 hours of prosthetics. The role, which she nearly declined until she was moved by the prequel's storyline, requires much of Lawrence to be in the buff. However, she is clear about her focus for the film. "My job is not to be skinny, my job is to act," she told W magazine.
"The business does try to type you. You can either be pretty and dumb […]But you can't say no," she continues. "I'm good at saying no."
Of her choice of performances, it seems the Santa Monica-native has no problem sticking to her guns, even in Hollywood. "There are actresses who build themselves, and then there are actresses who are built by others," she told W magazine. "I want to build myself."
-- Sarah McClure