Wavy Locks are All the Rage at the Golden Globes
Posted on January 18, 2010, 12:46 PM
One of the best hairstyles to wear on a rainy day is wavy, tousled hair. Perhaps the rainy conditions at last night's Golden Globe Awards is why so many starlets chose to wear their hair in loose curls.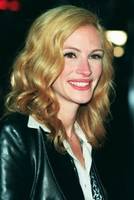 Roberts stick to what she knows when it comes to her hair
Celebrities such as Zoe Saldana, Julia Roberts and Leona Lewis all sported ultra glamorous, star-worthy curls at the ceremony.
Roberts, pictured here at a previous event with a similar look, played it safe with natural, soft waves, but just because she sported a signature look doesn't mean she appeared any less stylish as she walked the red carpet (and how many people still manage to look elegant in downpours?)
If the forecast calls for showers on your next big night out, beat the frizz by working with the damp air, not against it. Start by massaging a golf-ball sized amount of mousse into your tresses after you're done in the shower.
After working in the product, let your hair air dry for about 20 minutes, and then blow dry your strands with a diffuser attachment – this will help add body and texture.
Next, take a page out of the stars' books and grab that curling iron! Wrap quarter-inch sections of hair around the iron, rolling the tool halfway up your tresses. Don't worry if your curls fall a bit loose, it will give your style a more romantic feel.
To ensure that the hairstyle stays in place despite bad weather conditions, mist some hairspray over your curls for a hold that will last all night, no matter what Mother Nature throws your way.