Struggling with the blow dryer again?
Posted on November 6, 2009, 5:12 PM
Seattle's Swink Style Bar aims to improve the city's hair, one blowout at a time.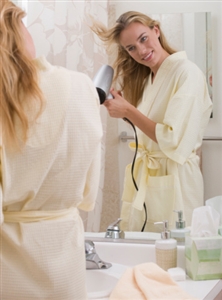 Let the professionals make your hair gorgeous at a blow dry bar
Sometimes, you can tell that you're having a bad hair day as soon as you get out of bed. After a day in the office, fighting with your hair again before drinks with the girls can seem like an all-too-daunting task.
Rather than hitting the streets with a crazy 'do, one new Seattle salon hopes to offer a solution to bad hair - and it might just be a lifesaver for busy moms, or ladies with hefty work schedules.
Everyone always feels that their hair looks amazing when styled by a professional, and it seems to fall flat when the same style is attempted at home. Why not allow a hair stylist to take care of the oh-so-important finishing touches, while you can plan your night ahead?
If this sounds familiar, consider treating yourself to a blow dry salon treatment next time you have a bad hair day and don't have time to run home. Such salons are gaining popularity around the country, and the latest to open is the Swink Salon in Seattle, Washington. Here, you pick your style, be it Scarlet Johansson's soft waves, or Beyonce's bouncing hairstyle, and a professional will wrangle your hair into shape.