Scarlett Johansson's hair and makeup is perfect for the '50s era play "A View from the Bridge"
Posted on January 25, 2010, 3:36 PM
Scarlett Johansson, the blonde bombshell who first made a name for herself in intelligent and unique films like "Lost in Translation" and "A Love Song for Bobby Long" has decided to try her hand at stage acting.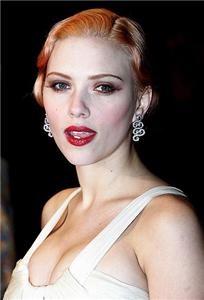 Scarlett Johansson's vintage makeup style is pitch perfect for her Broadway debut.
The actress is appearing opposite Liev Schreiber on Broadway in Arthur Miller's "A View from the Bridge," a steamy and heartbreaking tale about a man's infatuation with his wife's niece.
Though many actresses might have altered their look to take on a period role (the play is set in the early '50s), Johansson's classic good looks and pin-up glamour lend themselves to the play's style. In fact, she takes to the stage looking like she just stepped out of a Norman Rockwell painting.
Johansson is also known for her hour-glass figure, and she frequently complements this by wearing bright red lipstick and retro dresses, with her platinum hair done up in Old Hollywood hairstyles.
Even when she appeared in the futuristic science-fiction film, "The Island," Johansson oozed old-school glam.
Any girls who want to try a similar look themselves without looking costumey can bring a '50s vibe to their ensemble with subtle touches like pin curls or vintage style makeup.