Scarlett Johansson Steps Out In Curly Hair and Skintight Suit for 'Iron Man 2'
Posted on April 2, 2010, 10:27 AM
Scarlett Johansson is starring opposite Robert Downey Jr in 'Iron Man 2,' and the movie posters (which have just been released), depict the sultry starlet sporting curly hair and a tight jumpsuit. We didn't think it was possible, but she's looking ev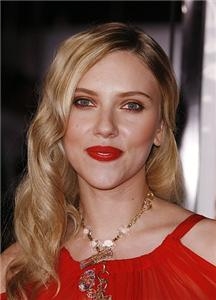 Scarlett Johansson tries out curly hair for "Iron Man"
Johansson, pictured here at a previous event, is also sporting some classic red lipstick, and overall it seems like her character, Natasha Romanoff (the alter ego of the villainous Black Widow), is a vintage-style bombshell.
In the film, Romanoff is an undercover spy who poses as Tony Stark's (Downey Jr) assistant to gain vital information. The role was originally meant to be played by Emily Blunt, but the actress was forced to drop out due to a scheduling conflict.
We think that Blunt is gorgeous and a great actress, but something tells us that Johnasson is the perfect fit for this role – she definitely has the curves, the attitude and the talent to pull it off.
Another siren of the silver screen appearing in the film is Gwyneth Paltrow, who's reprising her role as Pepper Potts, Stark's friend and love interest.