Rihanna lights up the red carpet with new blonde 'do
Posted on November 11, 2009, 3:28 PM
The singer unveiled a new hairstyle at the Glamour Woman of the Year awards.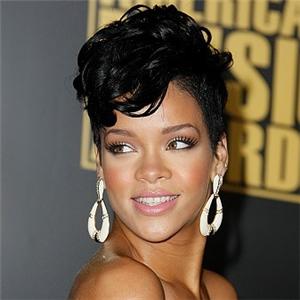 Rihanna's dark hair is no more - the star has gone blonde!
Earlier this year, Rihanna, pictured here, was reportedly a victim of domestic violence at the hands of her now ex-boyfriend, Chris Brown. She was quoted by Glamour Magazine as saying, "I went to sleep as Rihanna and woke up as Britney Spears. That was the level of media chaos that happened the next day."
However, the star proved that she could bounce back, and has won Glamour's Woman of the Year award. Last night she walked the red carpet with poise and a beautiful new blonde hairstyle. Glamour.com reveals that the singer wore a dress by Stephanie Rolland and she accepted her award from supermodel and style guru, Iman.
Rihanna fans and those looking for a new hairstyle might be asking themselves, "is blonde hair making a comeback?" Both Iman and the pop star both wore brilliant blonde hairstyles.
Iman's hairstyle was sleek and shiny, dyed in a shades of dirty blonde and light brown. Rihanna chose a bolder hue, with a glowing blonde, honey-like shade.
If you're ready to go blonde yourself, discuss first with a stylist to pick the perfect blonde for your skin tone.