Rachel Bilson and Hayden Christensen - Back Together
Posted on November 9, 2010, 2:26 PM
Sources report that the estranged pair have reunited, though there's no word on whether the engagement is back on.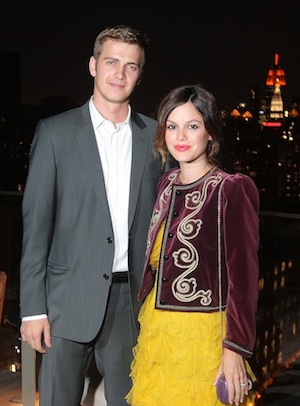 Will we be seeing more of Hayden Christensen and Rachel Bilson together?
According to x17, Hayden Christensen and Rachel Bilson have reunited.
The pair ended their year-long engagement in August, but have reportedly gotten back together as paparazzi have snapped Christensen leaving Bilson's Los Feliz, Calif. house several times in recent days.
While not confirmed by either's reps as yet, the reason most often cited for the initial break-up was… logistics. See, Christensen lives in his native Canada, in Uxbridge, Ontario (he was born in Vancouver), while she remains a full-fledged California girl.
No word yet on how they plan to deal with the often complicated issues that long-distance relationships raise this time 'round, but since he's slated to begin production on "The Cold," which takes place in the woods during a snowstorm, we're guessing that he won't be in Los Angeles long. And, that's probably just as well because, in addition to writing her monthly fashion/style column for "IN STYLE" magazine and her Tre Semme ads flaunting her gorgeous
hairstyles
, Bilson will be filming "BFF & Baby" opposite Kate Bosworth and Justin Kirk in a few weeks so she'll be too busy to miss him -- much.
Would you like to see Hayden and Rachel reunited and maybe even walking down the aisle? Or, is the old "out of sight, out of mind" adage going to come in to play here?
--Audrey Fine