Are Olivia Wilde and Ryan Gosling Dating?
Posted on March 1, 2011, 5:55 PM
The pair was spotted out and about at an Ohio area aquarium by an observant fan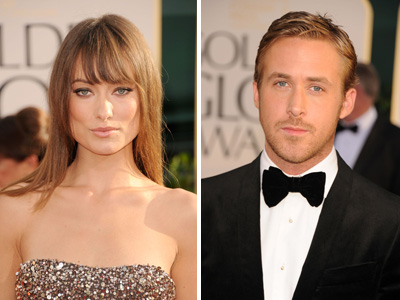 New couple alert? Olivia Wilde and Ryan Gosling sightings spark rumors
She separated from her Italian prince husband early last month after 8 years of marriage and now Olivia Wilde, 26, is rumored to be dating Hollywood hottie, Ryan Gosling, 32.
Not only were the "Tron: Legacy" and "Blue Valentine" stars caught on tape at a Cincinnati aquarium last week by a fellow fish fan, but, according to eonline.com's resident gossip king, Ted Cassablanca, they were also seen canoodling up a storm back in January at an industry shindig in Beverly Hills following the Golden Globe awards.
"They talked for a while inside the show during commercial breaks. Then when Olivia saw [Ryan] at the afterparty she went right up to his table," a source told Cassablanca. "They were talking and laughing together for a long time. They looked cute!" (She, of course, looks as beautiful as ever with her new dark
hairstyle
.)
Gosling, who's been linked with many famous females -- from Sandra Bullock to Rachel McAdams -- is currently shooting "The Ides of March" in Ohio with George Clooney and Evan Rachael Wood. Wonder if Olivia will head back for another day of tourist attractions - this time a trip to the zoo perhaps -- after all, the Cincinnati Zoo
is
one of the best in the country.