Mike "The Situation" Attempts to Trademark His Name For New Line of Products
Posted on February 2, 2010, 3:18 PM
If there's anyone out there who hasn't made a "Situation" joke yet, will they please come forward? Ever since the first episode of "The Jersey Shore" premiered on MTV, conversations across the country have been peppered with refer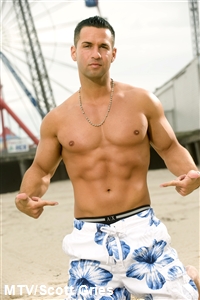 Mike "The Situation" tries to patent his name for a line of products.
However, fans might soon have to be a little more careful about how they refer to Mike.
"The Situation," also known as Mike Sorrentino, is trying to trademark his moniker. The 28-year-old reality star plans to name his line of bathing suits, shirts, bathrobes, tuxedos, track suits, tank tops, his own fragrance and other products "The Situation," according to the "New York Daily News."
We have to wonder what those other products are exactly. Maybe he'll market some hair gel, so that fans can create a shellacked hairstyle similar to his usual 'do. Or perhaps he'll come out with a hair removal cream for guys, so that they can make their chests as hairless and beach-ready as his? The possibilities are endless.
The news source reports that Sorrentino's patent application has been submitted, but as of yet it has not been approved. So get your "situation" jokes out while they're still free!