Leighton Meester Displays a Fun Hairstyle at Night Club Opening
Posted on December 30, 2009, 2:00 PM
Sure, Leighton Meester has been wearing some "out there" beauty looks as of late, but that doesn't mean the "Gossip Girl" star can't knock other celebrities' looks out of the park from time to time.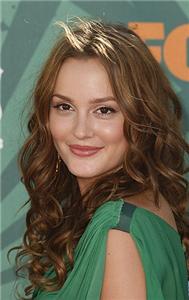 Meester's wavy hair is versatile with styles
During a recent appearance at Klutch nightclub in Miami, Florida, Meester, pictured here at a previous event with tousled tresses, displayed a gorgeous hairstyle. She pulled back the front portion of her long locks and allowed the rest of her loose curls to cascade down her back.
Do you want to rock a similar look for New Years? Start by taking quarter-inch pieces of your hair and curling them with a large barrel curling iron. Don't go too crazy with the hairspray- it's okay if the curls fall a bit. A few strands out of place will give this hairstyle a romantic, feminine feel.
Once your hair is curled, make a part down the center with a comb. Pull the front layers back and secure them at the nape of your neck.
When you're content with your hairstyle, use a hair elastic to hold the half ponytail in place. To jazz up this look, use a jeweled barrette. You'll be ready for New Year's Eve in no time!