Kim Kardashian Arrives at Nightclub with Glamorous High Ponytail
Posted on December 30, 2009, 6:18 PM
Want to show off your dazzling features for New Year's Eve? Go for reality star Kim Kardashian's look. The star recently showed up at Eve nightclub in Las Vegas, Nevada, with a slicked-back high ponytail showing off her long hair.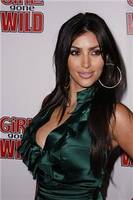 Kardashian's long hair is versatile with any style
Kardashian, pictured here at a previous event with her raven hair worn down, likes to stick to basic looks that she knows are flattering.
If you want to rock a cute hairstyle but don't have much time to get ready, Kardashian's look is a great one to try.
Start by straightening your hair using a flat iron. This will give your hair some extra shine and keep your tresses looking sleek and silky.
Using a paddle brush, pull your hair straight back from your crown and gather it all together at the back of your head.
Secure all of your strands in a high ponytail with a tightly wound elastic to ensure none of your hair will slip out.
For added New Year's Eve bling, try a jeweled headband to help hair stay slicked back, or even a glittery barrette for extra sparkle.