Khloe Kardashian Gets a New Red Hair Color and a Television Show
Posted on January 6, 2011, 11:46 AM
With a new reality show and a new hair hue, Khloe is the sister everyone's buzzing about.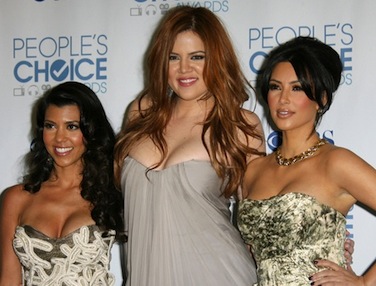 "I've never been red before so why not?" - Khloe Kardashian
The People's Choice Awards were handed out in Los Angeles last night and, naturally, all of the Kardashian sisters were in attendance. But, for the second time that day Khloe was the one everybody was talking about.
Earlier on Wednesday had come the news that the E! television network had ordered a reality show starring Khloe and her NBA star husband Lamar Odom. Produced by Ryan Seacrest Productions, the cleverly titled "Khloe & Lamar" is set to start shooting soon. The reality show will feature the couple as well as her brother, Robert, who is trying to embark on a music career.
The announcement was made during the first day of the Television Critics Association Press Tour in Pasadena during which Lisa Berger, the executive vp of entertainment programming for E!, told reporters that "Khloe and Lamar are such a dynamic couple that we just knew we had to give them their own series."
As if
that
wasn't enough excitement in Kardashian land for one day, when the gaggle hit the People's Choice Awards' blue carpet yesterday afternoon all eyes were on Khloe's new red
hair color
! "I wanted to stand out for a little bit," the tallest of the sisters told PEOPLE magazine. "I've never been red before so why not?"
According to people.com, Khloe's hair guru Clyde Haygood brought celebrity colorist Julie Canales on board to work her magic and, evidently, the hue is a big hit with Odom who told his wife to go for more. "Lamar said for me to go redder — he loves it!" Khloe told the site.
And, to top off what must've been a great day for Khloe, "Keeping Up with the Kardashians" took home the statue for "Favorite TV Guilty Pleasure."
While we'll have to wait a few months to see "Khloe & Lamar" debut on E!, don't despair, you can get your fill when "Kourtney & Kim Take New York" premieres on the cable network on Jan. 23.