Kelly Osbourne's Pussycat Dolls Makeover: Blonde Hair Extensions & Corset
Posted on September 2, 2010, 2:16 PM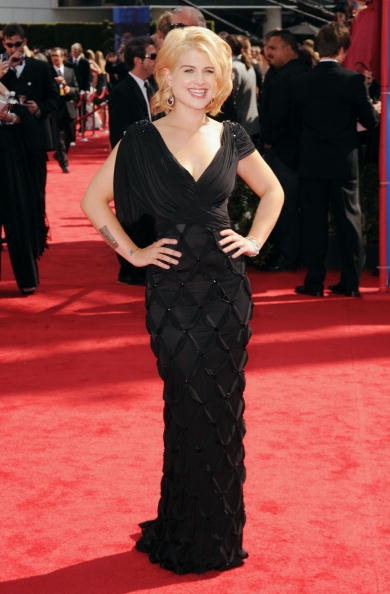 Kelly Osbourne's Pussycat Dolls Makeover: Blonde Hair Extensions & Corset
It's amazing what a little bit of hair dye can do. From the stomach-churning white bangs matched with a raven bob to the equally ghastly purple-turning-gray "lob," it seemed like a rainbow was bleeding over Kelly Osbourne's head for the last ten years. Having been in our
Worst Hair Trends of All Time
gallery, our
13 Most Outrageous Celebrity Updos
gallery and even given a (generous) C- in our
Worst Celebrity Looks
gallery, who knew that she would look the most ravishing as a natural-colored golden blonde?
Osbourne has slimmed down and cleaned up since her gothic chubby days and has since turned into a knock-out blonde as we saw this past Sunday at the Emmys in a glamorous body-hugging Tony Ward gown. Her stylist and friend Brooke Dulien said they were going for "classic and chic" as she also looked stunning in a white Body Amr dress that accentuated her slim figure. How did she lose the baby fat? While she goes to Hagaman's Blue Clay Fitness gym four times a week, her weight loss secret is cardio, cardio, cardio.
"Ever since 'Dancing with the Stars,' I've tried to get in at least a half hour of cardio a day -- nothing too crazy," she told "People" Magazine. "My trainer Sarah Hagaman is amazing! She knows how to motivate me to go that extra bit without frustrating me."
And in just a few short days, Kelly's glam Emmys makeunder turned into a burlesque
makeover
for a Pussycat Dolls performance at LA's Viper Room last night. For her burlesque debut, Kelly wore blonde
hair extensions
and black stockings with corsets and a silver glittery mini. The 25-year-old managed to look like a vintage vixen in her PCD makeover. Do you like her new
blonde hairstyles
or do you prefer her rocker highlights? If you like her new classy look, check out these other
celebrity makeunders
that I adore.
By Sharon Yi