Are Kate Moss' dark roots trendy or trashy?
Posted on November 13, 2009, 9:15 AM
The supermodel has recently been spotted with rather obvious dark roots creeping into her long, blonde hair.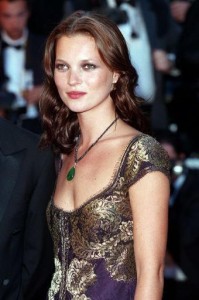 Kate Moss - in more glamorous days, perhaps?
Stars like Rihanna and Iman both proved that they can carry great blonde hairstyles at Glamour Magazine's Woman of the Year Awards. However, not every lady seems to be able to handle a blonde look. Kate Moss, pictured, looks to have been skimping on her touchups as of late, StyleList reveals.
While InStyle.com may think that flash of dark roots such as those worn by Gwyneth Paltrow is kind of cool, Moss seems to have overdone it and missed one too many salon appointments. However, the Daily Mail attributes her larger-than-average roots to the fact that Moss and her stylist Jamie Brown may not have been on the best terms recently.
The newspaper reveals that Brown and Moss are on the outs after she was heavily featured in a documentary about his salon, much to her distaste.
If you and your hairstylist are seeing less of one another, you can handle potentially large root problems at home. Those who are growing out highlights may want to try a gentle dye to blend lighter ends with darker tips until the hair color is uniform again.