Justin Timberlake's New Buzz Cut Hairstyle
Posted on November 2, 2010, 12:02 PM
Gone are the bouncy ringlets that used to grace the mega-star's head.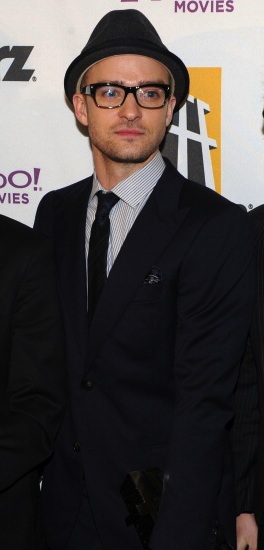 What's under that fedora? A nearly clean pate!
On the heels of numerous reports that he has been stepping out on Jessica Biel, his girlfriend of three years, with "Daily Show" sidekick, Olivia Munn, come photos of Justin Timberlake with a buzz cut
hairstyle
.
Remember the days of *NSYNC when little JT boasted a head of tight, cherubic blonde curls? Those days are gone. Yep, the mega popstar, who's currently enjoying great success (and garnering early buzz for an Oscar nod) in the movie "The Social Network," has said bye (bye, bye) to much of his hair. Of course, he's a fashion forward guy, what with his successful William Rast clothing line and innate fashion sense, and we have seen his pate before, but it's just been a while.
Timberlake was photographed out and about last week (like at the 14th Annual Hollywood Awards Gala as pictured here) wearing a fedora and to keep his new style under wraps but he's been spotted on the set of his new movie "I'm Mortal" with Olivia Wilde and Amanda Seyfried, sporting the new 'do.
Do you think he looks better with longer hair or is he handsome enough to pull off any old look?