Justin Timberlake and Jessica Biel Broke Up -- Finally!
Posted on March 10, 2011, 8:04 PM
Two of the world's sexiest people are back on the market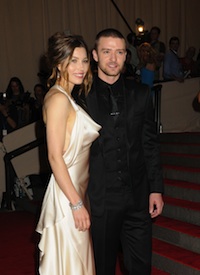 The couple at a happier moment on the red carpet in 2010
After four years together, Justin Timberlake, 30, and Jessica Biel, 29, have broken up -- again. But this time, according to TMZ anyway, it's for good.
For their part, reps for the ex-couple have released a joint statement saying, "Addressing the media speculation regarding Jessica Biel and Justin Timberlake's relationship, we are confirming that they mutually have decided to part ways. The two remain friends and continue to hold the highest level of love and respect for each other."
It's been a rocky romance for the couple who got together in January 2007. They've navigated some tricky waters including several rumored break ups and infidelities -- the most recent of which occurred in late 2010 when Timberlake was accused of cheating with actress Olivia Munn. At the time, the former-*NSYNC-er's rep quickly quelled the story, but shortly thereafter, "Life & Style" magazine reported that the singer had texted Munn, that his relationship with Biel "was over."
Earlier that year, Biel addressed the rumors in a "Vogue" magazine interview saying simply, "I don't want to talk about it. "I don't feel the need to clear anything up. It's the most precious thing that I have in my life, and I care about it so much that I don't care about what anyone says or thinks. I have just not addressed it in any real way, and I'm not going to. It's mine. And I really like that about it."
Sadly, it's not hers anymore. But, one can only imagine that she, having been named the "Sexiest Woman Alive" by "Esquire" magazine (with that
body
, who can blame them?), and he, "People" magazine's "Sexiest Man Alive" will probably land on their feet and do rather well for themselves in the dating pool.
-- Sharon J. Yi