Gwen Stefani Sports Edgy Hairstyle in L.A.
Posted on May 25, 2010, 6:29 PM
Some busy moms barely have time to shampoo, but Gwen Stefani, mother to Kingston and Zuma, has found room in her schedule to cut and color her strands, as evidenced by the daring new celebrity hairstyle she revealed while running errands with her ado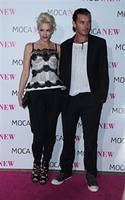 Gwen Stefani tries out a new hairstyle
Don't worry! The mother of two, picture here with her husband, didn't change her trademark platinum color, but she did lose some length and opt for an asymmetical cut with long bangs and a choppy overall look.
The style is gorgeous, but it's not exactly wash-and-wear -- we wonder how long it takes Gwen to style it in the morning?
While photographers snapped pictures of Gwen's new look, they also nabbed a few snapshots of her adorable 21-month-old son Zuma, who has his own cute style going on. Maybe the two got mother-baby cuts together?
Earlier this month it was rumored that the "No Doubt" songstress and her rocker husband, Gavin Rossdale, may have another baby on the way, but "E!online.com" reports that Stefani is not expecting.