Fergie Shows Off New Highlights at Grammy Nominations Concert
Posted on December 2, 2009, 11:09 PM
Fergie has been keeping her hair dark for a while now, a departure from her normally lighter locks, but now it appears she's looking to lighten up a little bit.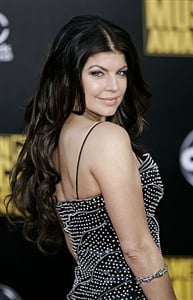 Fergie recently added highlights to her dark hair
The singer, pictured here, was seen at the American Music Awards with caramel highlights in her black hair. When she recently showed up to the Grammy Nominations Concert, Glamour Magazine closely examined the singer's latest hair color.
Fergie took a risk of adding highlights to her dark hair. However, she kept the tone within the same color family, and didn't opt for hazardous blonde streaks. The dark caramel color gives softness to her hair and is more flattering against her skin tone.
While the songstress kept her highlights thicker in the front, she had thinner streaks throughout the rest of her hair. The heavy color up front added a little extra glow to her skin tone.
Even though this look may not work for everyone, those who want to try it should take heed to Fergie's example and only go a couple shades lighter in highlights, as they're meant to complement a hair color, not provide a dramatic contrast.