More Evidence that Jake Gyllenhaal and Taylor Swift are Dating
Posted on November 29, 2010, 1:55 PM
The holidays bring family, friends and celebs together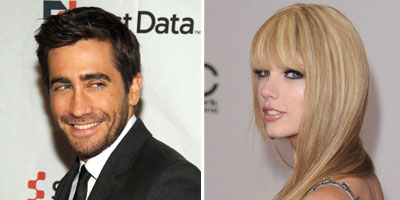 More Evidence that Jake Gyllenhaal and Taylor Swift are Dating
Thanksgiving, a time for friends, a time for family, and apparently a time to invite new lovers to Thanksgiving dinner -- at least in Hollywood.
Not only was Kim Kardashian, famed 30-year-old single sensation that she is, seen hosting Halle Berry's ex, Gabriel Aubrey, at her family's Thanksgiving dinner after a movie date, 20-year-old country singer Taylor Swift was also seen canoodling with actor Jake Gyllenhaal, 29, during a romantic visit to her Nashville hometown over the holiday weekend.
While rumors surrounding Reese Witherspoon's and Joe Jonas' exes had been swirling for weeks, both have managed to avoid confirming the relationship when asked in interviews and even Gyllenhaal's "Love and Other Drugs" co-star Anne Hathaway helped divert attention away from the pair by feigning jealousy during press junkets for the movie.
But now it seems that the rumors were true as Swift and Gyllenhaal were seen together on Thanksgiving enjoying maple lattes at Brooklyn's Park Slope's Gorilla Coffee -- just around the corner from where Jake's actor sister Maggie lives.
And, two days later, they were photographed in her native Tennessee having brunch at Nashville's Music Row (and, yes, Swift's
hairstyle
was back to its curly ways -- gone was the straightened hair she wore at last week's American Music Awards). Was a family meet-and-greet taking place over the holiday weekend? Perhaps.
And, why not? This may be the best time for these celebs to get into a new relationship. Swift could now be ready for a more mature relationship as she has gone through several breakups in the recent past having famously dated Lucas Till, Taylor Lautner and John Mayer in addition to Jonas, all of whose shortcomings the Grammy-winning songwriter famously immortalized in catchy lyrics of her hit singles. And, Gyllenhaal, who, of course, went through a very public breakup with four-year-girlfriend Witherspoon, seems happy to have moved on to the much younger, perhaps more "optimistic" partner for love.
But for now, they're keeping a low profile in the press. Swift sidestepped questions of the relationship just last month on the Ellen DeGeneres show saying only that she was "always optimistic about love…always, sometimes."
-- Sharon J. Yi