Did Katie Holmes' Casual Hairstyle Look Frumpy or Fabulous?
Posted on November 30, 2009, 9:03 AM
The actress wore a bedhead-inspired hairstyle at the first Dizzy Feet event.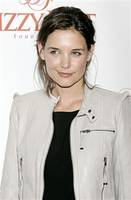 Katie Holmes tries out the messy ponytail
Katie Holmes, pictured here, is currently working on her latest movie, The Romantics, but took some time out of filming for a good cause. She recently attended the first gala event for her foundation called Dizzy Feet, of which she is a co-founder with So You Think You Can Dance judges, Nigel Lythgoe, Adam Shankman and Carrie Ann Inaba. Rather than glam it up, Holmes chose to wear an incredibly relaxed hairstyle at the celebration.
It seemed that Katie Holmes' hairstyle was put together very last minute. Images here and around the internet show the star with a loose, very messy ponytail that even looks a bit frizzy in some angles, particularly those from OK Magazine.
Perhaps Holmes has been focusing too much attention on daughter Suri's style as of late? The pair were spotted shopping in New York City by various media outlets, including People Magazine.
Messy ponytails can look great, as long as you're sure to wash, brush and straighten your hair first. Celebrities like Jennifer Aniston and Cameron Diaz wear the hairstyle well, even on the red carpet. Just remember "messy" hair doesn't mean unbrushed!